Social Justice
The path of Social Justice at UUFHC is determined each year based on the need and interest of our membership. Funds for the committee's work are supplied via special monthly collections during our Sunday morning services, September through June. The Social Justice Committee strives to educate our community about social justice issues using many sources, including those provided by the UU College and Social Justice, monthly documentary nights, and hands-on volunteer opportunities. This year our committee is concentrating on four task areas:
Peace Pole Project Through a generous donation from retired Homestead Wakefield teacher Leigh Brown Faunce, the Unitarian Universalist Fellowship of Harford County has planted a Peace Pole near the entrance to the church in Churchville. Ms. Faunce saw her first one at the Unitarian Universalist Church of Annapolis which sparked an idea she brought back after her visit there. She enlisted Rhoda Huston, Sara Morton, Beth Wood-Roig, her husband Bill Faunce and Rev. Lisa Ward to help in planning a special service, educational exhibits, an interactive activity and a ceremonial planting.
Peace Poles are products of an initiative inspired by Masahisa Goi in Japan in 1955. He felt that after the devastation of World War II the world needed to work towards peace. He was the founder of the World Peace Prayer Society, a non-profit, non- sectarian NGO at the United Nations which is dedicated to uniting people across the globe through the universal prayer, May Peace Prevail on Earth.
To date, more than 200,000 Peace Poles have been planted in over 190 countries. However, this one is believed to be the first in Harford County and it has the message May Peace Prevail on Earth in 12 different languages. Peace Poles can be found in a wide variety of places including town squares, schools and places of worship and some of the extraordinary locations include the Pyramid of El Giza in Egypt, the Magnetic Pole in Canada, Gorky Park in Russia, Sarajevo and the Atomic Bomb Dome in Hiroshima. Both political leaders such as former President Jimmy Carter and religious leaders such as Pope John Paul II, Mother Teresa and the Dali Lama have dedicated Peace Poles.
Former UUFHC minister Rev. Lisa Ward reflects, Peace is not a passive way of being, it is an active, mindful engagement with the blessings of life. The Peace Pole is a simple, elegant reminder of the willingness for peace, offering its prayer to all who might take up the endeavor.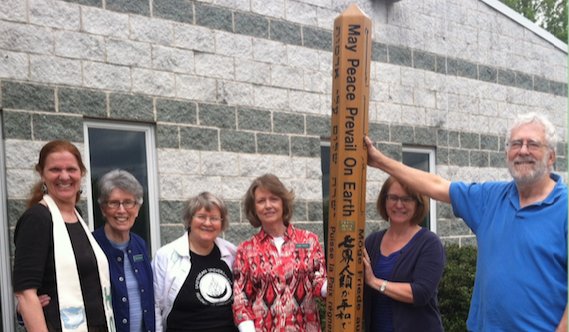 The Peace Pole Committee celebrating the placement of it in front of the church. From left: former UUFHC minister Rev. Lisa Ward, Rhoda Huston, Sara Morton, donor Leigh Brown Faunce, Beth Wood-Roig and Bill Faunce.
The Domestic Violence Task Force works to increase awareness about domestic violence as well as to provide the community with information on resources to assist victims and their families. In October we prepare and display Silent Witness figures in front of the church, lifting up community awareness of those in Harford County who were killed by a family member. This activity involves a Sunday morning unveiling ceremony featuring talks by community leaders who work to prevent and reduce domestic violence. Many of our members also do volunteer work for SARC (Sexual Assault/Spouse Abuse Resource Center) and UUFHC provides support for their projects, generally around the winter holiday season.
The Homeless Concerns Task Force prepares dinner at the FCCAU Welcome One homeless shelter in Riverside one day a month, in addition to packing lunches and serving a continental breakfast for the following day. We also provide support personnel at the facility through that night. In 2015, we will return to the Sharing Table  three times throughout year, supplying a Saturday lunch for all who attend. This program is located at the Prince of Peace Church in Edgewood, Maryland. Also, UUFHC is represented on Habitat for Humanity Susquehanna's Faith Relations Committee, and beginning in late 2014 or early 2015, we will be joining Habitat for Humanity and other area churches in an interfaith build to provide a home for a local family in need.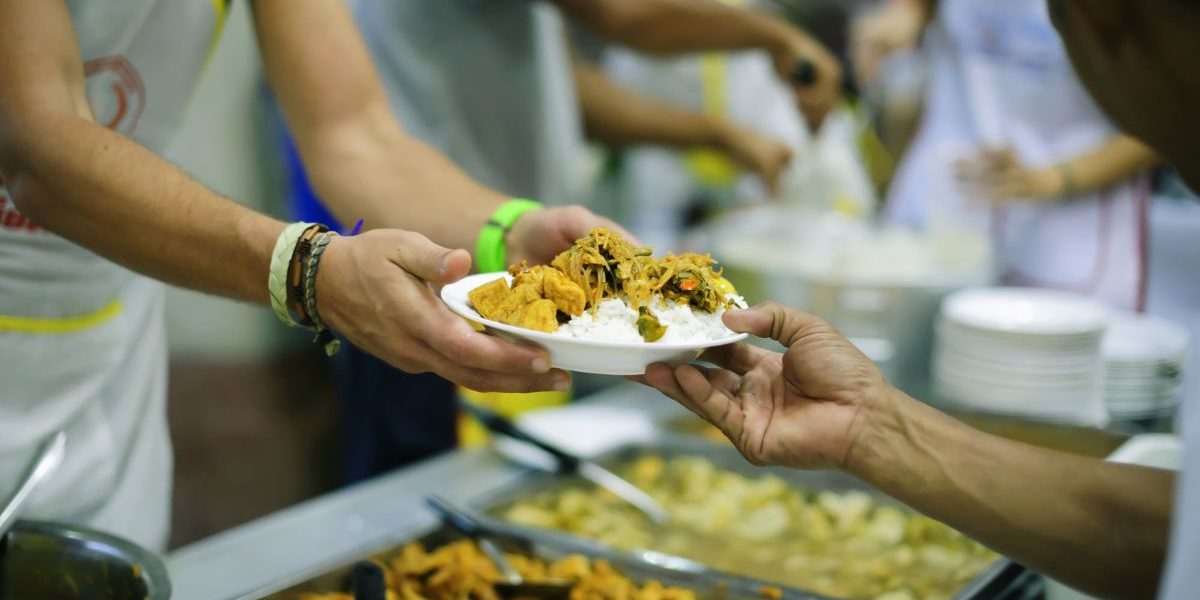 UUFHC volunteers have fun packing lunches at the homeless shelter in Riverside.
The Anti-Racism/Anti-Oppression Task Force keeps the fellowship aware of current topics concerning this subject through Facebook communications, documentary showings, invited speakers, and a few services each church year. This task force includes our ongoing support of LGBTQ rights which includes hosting bi-monthly meetings of the Rainbow Youth Alliance under the auspices of PFLAG (Parents, Families and Friends of Lesbians and Gays). We also have several members who volunteer for and/or serve on the board at LASOS (Linking All So Others Succeed), a Harford County organization that strives to provide resources needed by non-English Speaking residents in order to integrate successfully into United States society. We are finding ways to support LASOS' work, beginning with an intergenerational holiday activity in December 2014.
The Environmental Awareness Task Force strives to increase awareness about issues related to the well-being of our planet, as well as to provide local service opportunities to members of the community to enable them to volunteer their time to improve the health of our ecosystems. In September 2014, we supported Rev. Lisa Ward's participation in Climate Ride, a five day bicycle ride of over 300 miles from New York City to Washington, DC to raise awareness about climate change and support sustainability, active transportation, and environmental causes. The Environmental Awareness task force has recently put together a brochure on ways to effectively winterize your home and also shows documentaries related to this issue.
In addition to these task forces, the Social Justice Committee also helps facilitate other related activities, such as working with the UU College of Social Justice to provide volunteers for a service trip to Haiti in February 2015.
If you are interested in finding a community that offers fellowship, personal growth, and opportunities to give something back to society, please consider visiting UUFHC. Social Justice Committee announcements are posted on the wall over the food table in the coffee room. You can also find us on Facebook.
For more information pon the Social Justice Committee or our projects, please contact Tammy Gappen (
socialjustice@uufhc.net
).
---