Sermons for June
The Ministry of Mental Health
Rev. Barbara F. Meyers
June 4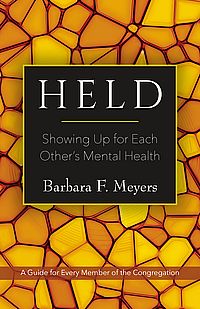 In this first worship service produced by the UU Mental Health Speaker's Bureau, Rev. Meyers will talk about her book HELD, which tells a lot of stories from her ministry focused on mental health issues—both how-to stories and how-not-to stories. She gives guidance for congregants in the pews who want to help make a difference. It has a built-in study guide. She hopes that the book will be used by many congregations to make the denomination a friendlier place for people with mental health problems and their families.
---
Delightful Dedication: A Coming of Age Service
DFF Jenn Blosser
June 11
Join us as we listen to our Coming of Age youth share their personal insights about and understanding of our liberal faith tradition. We will celebrate the blessings which come from the commitments of our young people to their individual beliefs and revel in the ways their enthusiasm uplifts our collective faith.
Please stay after the service to join a picnic to honor our youth and the dedicated mentors who shared so much of their time to make this program happen.
---
A Road Well Traveled
Rev. María McCabe
June 18
Join us for a celebration of this vibrant and caring congregation and all those who make it special. We will honor this time of transition and excitement for the future, as we say goodbye to our minister.
A special potluck celebration to honor Rev. María McCabe's ministry follows the service.
---
This I Believe
Hazel Hopkins, leader
June 25
Come hear what some of our members will be sharing in the essays they've written on the topic This I Believe. A radio program which was hosted by Edward R. Murrow in the 50s featured well known individuals reading their essays about a strong belief they held. It was revived on NPR in 2005 and on June 25 will be revived once again!
---