Please Note:
Zoom meetings replace in-person meetings until further notice.
Adult Education Classes
Classes are listed in alphabetical order by title
55+ Women's Group
Facilitator: Barbara Bowman
Meetings: Every Wednesday
Time: 1:00 PM
This is a group for older women (55+) who live alone. We hope to share the joys and challenges of this lifestyle and serve as a source of support for our members as well as providing resources and information of interest. The meetings are on the first and third Fridays at 10:30 AM, via Zoom.
Contact:
Barbara Bowman
---
Antiracism White Caucus Group
Facilitators: Erica Fineman-Bertoli and Cindy Neff
Meetings: 4th Sunday of each month
Time: 11:30 AM
The goal of this group is to build our learning and develop our resiliency to better able to serve as true anti-racists. We will discuss our own biases, grow our understanding of the realities of White Supremacy and White Fragility, and create an environment of trust where we can be a support to each other. Our goal is to transform ourselves with the intention of becoming increasingly anti-racist in our daily living.
Contact:
Erica Fineman-Bertoli
or
Cindy Neff
---
Gentle Yoga – All classes are suspended until further notice
Teacher: Becca Motil
Dates: Tuesday Evenings, January 15 – June 30
Time: 7:00 PM to 8:15 PM
Exchange: $8 per class/$5 for students & retirees (Please make checks payable to Rebecca Motil).
This is a gentle, meditative class open to any level of fitness or yoga practitioner. Please wear comfortable clothes, bare feet and a smile. Bring your own yoga mat and a throw or beach towel to roll up as a bolster or use as a blanket. Becca Motil has been teaching yoga for twenty years and is certified in the YogaFit style.
Contact:
Becca Motil
---
Journaling – This class is full and not taking on new members at this time
Facilitators: Cindy Curry and Beth Wood-Roig
Dates: First three Thursdays of each month, January – May
Zoom meeting link will be sent via email
Exchange: $12/week
The Onward Journeys Journaling Group is a stable and deeply bonded group of compassionate, supportive women, all of whom journal as part of their spiritual explorations and personal journeys. We use a number of different journaling techniques, occasionally including collage and other visual media in our journaling. Because of the depth of the bond, we prefer that people who join the group commit to attending the scheduled meetings regularly. f you are interested in joining the group or just want to learn more, please contact Cindy or Beth. We would be happy to answer any questions you might have. We welcome new members and would be glad to have you join us if you think this is a fit for you!
Dates: Fourth Saturday of each month, January – May
Zoom meeting link will be sent via email
Exchange: $10/week
Just like the Thursday evening group, this group will use a number of different journaling techniques, occasionally including collage and other visual media in our journaling practice. If you have ever been curious about what this journaling stuff is all about but have been reluctant or unable to commit to attending regularly on Thursday evenings, this is your chance.
Christina Baldwin, an author and experienced journal writer said, Journal writing is a voyage to the interior.  Join us, as we companion each other on this amazing voyage!
Contact:
Cindy Curry
or
Beth Wood-Roig
---
Kadampa Buddhism Meditation Classes – All classes are suspended until further notice
Dates: Tuesdays, 6:30 PM - 7:45 PM in Room 4
Exchange: $12 / $8 for students, seniors (60+), and unemployed
The purpose of meditation is to make our mind calm and peaceful. If our mind is peaceful, we will be free from worries and mental discomfort, and so we will experience true happiness; but if our mind is not peaceful, we will find it very difficult to be happy, even if we are living in the very best conditions.
Classes are lead by Kelsang Chogden, an American Buddhist nun and the Resident Teacher of Kadampa Meditation Center Maryland. She has been practicing Kadampa Buddhism for 21 years, and her teachings are always practical and easy to apply to everyday life. Through her gentle and joyful approach and her peaceful example, she has helped many people find true happiness in their hearts. For more classes and info: www.MeditationMD.org.
Contact:
www.MeditationMD.org
| 410-243-3837.
---
Musical Activities for All Ages
Facilitator: Brenna Kupferman
UUFHC presents many opportunities for people of all ages to make music together! If you sing or play an instrument at any level, this is for you! We make it fun, and there is no pressure, so please join us for any and all of these music-making opportunities.
We occasionally have other opportunities for singers and musicians to participate in services and other church-related activities. These can include playing during summer services, children's worship, and the annual RE service, social activities (chili cook-off, auction, picnic, and annual MUUsic festival), stewardship gatherings, special evening prayer services, memorial services, and other events. If you or your child is interested in being a part of these or any other music-related opportunities, please contact Brenna for more information.
Contact: Brenna Kupferman (
music@uufhc.net
| 443-739-5530)
---
OWLS Circle (Older Wiser Loving Souls)
Facilitator: J. Sue Henry
Dates: Second and Fourth Tuesday of the month
This group meets throughout the year. You may join at any time!
Time: 10:00 am to 11:30 am

Exchange: $15 for the year
This group of individuals starting at age 59 years (exceptions can be made!) meet to discuss:
the challenges and opportunities of aging;
experiencing practices and processes that enhance intention and passion for life;
sharing ways of serving the greater good in family, church and community.
The specific topics to be explored this year include:
the further identification of the joys, challenges and coping strategies for each of the stages of ageing.
the Essence of Sage-ing will be explored. This includes the topics of examining topics such as: engaging in life review, repairing relationships, embracing your mortality and transmitting your legacy.
You may join at any time! There are future activities, aside from the ongoing group, being planned for older, wiser loving souls.
Contact:
J. Sue Henry
---
Parent Support Group
Facilitator: Jennifer Blosser, Director of Faith Formation
Dates: Second Friday of the month
Time: 6:45 pm

In Parent Support Group, we explore how to raise children with UU values. Spending time with like-minded parents helps us build community and energize. Together, we find strength to meet the challenges of life. Bring the whole family on the second Friday of the month. We meet from 5:45pm to 8:00pm. We share a light dinner of pizza, salad, and dessert. After dinner, the kids go with the sitters to the RE Wing and the parents talk.
Please RSVP
Jennifer Blosser
---
Qigong and Tai Chi – All classes are suspended until further notice
Instructor: James (Marty) Martin
Wednesdays: 9:00 AM
Thursdays: By appointment
Saturdays: 9:00 AM
Exchange: $5 per session or $10 per month
Qigong is an ancient form of self-healing through gentle movement. It is a movement practice focused on health, longevity, stress management and mental clarity. Marty will be teaching the Hauxia Zhineng Qigong (Chi Lel) system which was the world's largest medicine-less Qigong. The Chi Lel Qigong center in China had more than one hundred thousand patients with 180 different diseases and had a 95% success rate. James Martin (Marty) has been practicing Qigong for 25 years; he'll draw on 50+ years experience in the martial arts. He has taught Qigong in many different locales and will be teaching this beneficial healing practice at UUFHC.
Tai Chi is another ancient form of self-healing. Marty will teach the Yang style 24 movement Tai Chi short form. He will take you step by step through the most widely practiced Tai Chi form on the planet.
Contact: James (Marty) Martin (443-299-2434)
---
Facilitator: Rev. María Uitti McCabe
Dates: First and Third Tuesday, starting September 1, 2020
Times: 7:00 PM
Exchange: None

You are invited to join us as we embark on our fourth year of the Soul Matters Sharing Circle. This is a wonderful time to share connection with each other and go deeper with our monthly worship themes. The theme for September is Renewal.
Like a favorite reading from our hymnal says, 'alone our vision is too narrow to see all that must be seen, and our strength too limited to do all that must be done. Together, our vision widens and our strength is renewed.'
– From the Soul Matters Sharing Circle website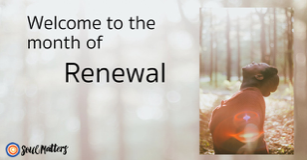 We meet via Zoom on the first and third Tuesdays of the month from 7-8:30 pm and we nurture our spiritual growth with laughter, companionship and deep conversation. Every month we will engage unique spiritual practices that help us deepen our understanding of that month's spiritual theme. In September, our UUFHC community will explore in worship and the Soul Matters Sharing Circle what it means to be a people of renewal.
Contact:
office@uufhc.net
---