Ways to Help
Support our military and veterans
The UUA offers a toolkit and ways to support our military and veterans. The Military Ministry Toolkit (PDF, 54 pages) is a six-workshop program for adults in Unitarian Universalist (UU) faith communities that seek to become more intentionally open and inviting to military service-people, veterans, and their families. The series of one-hour workshops provides a structured process, spiritually grounded in Unitarian Universalism, for:
learning about issues related to military service,
respectfully discussing issues of war and peace, and
preparing as individuals and as a faith community to welcome and support military personnel, veterans, and their families.
Welcoming Military Veterans
15 Things Veterans Want You to Know. This video was created to educate anyone who works with, lives with, or cares for our military Veterans. PsychArmor asked hundreds of Veterans what they wanted civilians, employers, educators, health care providers, and therapists to know about them. These comments were used to create the topics of this course including 5 Questions You Should Always Ask Veterans, 1 Question You Should Never Ask Veterans, and 15 Facts that promote greater understanding of our Veterans.
Support ant-poverty, anti-racism,
anti-oppression campaigns Join the Poor People's Campaign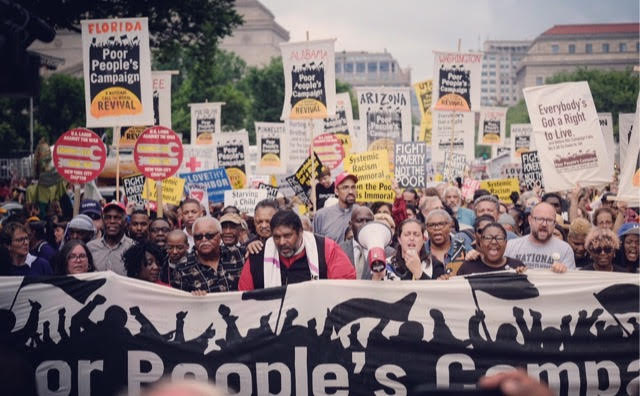 The Poor People's Campaign: A National Call for Moral Revival is uniting tens of thousands of people across the country to challenge the evils of systemic racism, poverty, the war economy, ecological devastation and the nation's distorted morality.
The Unitarian Universalist Association is an official endorser and faith partner of the Campaign because UUs align with the goals, strategies, and tactics that strengthen multi-faith and partner relationships and coalitions, deepen our own faith, and help build a transformative movement for justice.
You can join the campaign directly or take action with other UU's
Recommit to Building the World We Dream About Program
Recommit to Building the World We Dream About which was interrupted by the pandemic. Building the World We Dream About is a Unitarian Universalist program that seeks to interrupt the workings of racism and transform how people from different racial/ethnic groups understand and relate to one another. It consists of 24 two-hour workshops, with Taking It Home activities, reflections, and readings to be done between workshops. The program creates opportunities for participants to practice dreaming our world otherwise, and then commit to new, intentional ways of being. As Unitarian Universalists, we hope developing antiracist, anti-oppressive, and multicultural habits and skills will lead us to build the multicultural world of beloved community we dream about.
Join Unitarian Universalist's For Social Justice:
UU's for Social Justice advance equitable national policies and actions aligned with UU values through engagement, education, and advocacy