Our Minister,
the Reverend María McCabe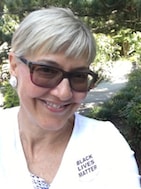 María Uitti McCabe served the Unitarian Universalist Church of the Restoration as intern minister and Director of Social Justice and Community Ministries. A graduate of Lancaster Theological Seminary in May 2014, María was ordained to the Unitarian Universalist ministry on June 4th, 2017 at First Unitarian Church of Wilmington.
María fell in love with Unitarian Universalism almost thirteen years ago, after a lifetime of spiritual seeking. She has been a television journalist, Leadership Communication consultant, homeschooling mom and lifelong social activist. She will tell you that serving as a minister is what she was always meant to do.
She brings to ministry a deep passion for the work of social justice, especially in the areas of economic and racial justice. A native speaker of Spanish, María grew up in a bilingual, bi-cultural and biracial home. Her personal history fuels her vision of inclusive and just community.
María served as liturgist on the Lancaster Theological Seminary Worship Team where she felt privileged to work with a talented team, dedicated to spirit-filled worship.
She lives with her husband Mike and her elderly cat Nemo in Kennett Square, PA. Her daughters Morgan and Alix frequently come home for a good meal and help with their laundry.
I'd like to make it easier for us to connect and schedule time to visit together, so I've set up a calendly account. You can access it here and schedule a convenient time for both of us. If my availability doesn't work for you, please feel free to send me an email and we can arrange something else.
Office Hours

| Tuesday | Thursday |
| --- | --- |
| 2:00 PM to 4:00 PM | 1:30 PM to 3:30 PM |
Contact: 410-734-7122 |
minister@uufhc.net
Email
office@uufhc.net
to schedule and/or for additional times For private messages and/or emergencies: 443-390-6013