Sermons for May
Hopepunk: Essential Tales of Optimism
Rev. Amanda Aikman
May 2
Unfashionable? Sure. Obstinate? You bet. And yet talked of optimism (hopepunk) are increasingly winning against stories of doom (grimdark). Which stories will help us create a better world?
---
Mothers and Flowers
Rev. María McCabe
May 9
In this service we will celebrate and honor mothers and mothering in its beautiful and diverse forms. We will also celebrate our unique Unitarian Universalist tradition of a Flower Communion.
Social Justice Sunday! Please consider a special donation.
The homepage has payment options.
---
Ths Story of Us
Rev. María McCabe
May 16
As the world changes around us, what story do we tell ourselves of our growth and change as a community? How are we learning to tell a different story about who we are as a people?
---
The Tyranny of a Single Story
Rev. María McCabe
May 23
Our Unitarian Universalist Faith invites us to never stop seeking the truth. How can we do that if we become trapped in a single story?
---
Pathways to Healing and Regeneration
Rev. Yadenee Hailu
May 30
When you imagine pathways to personal, social and ecological healing and regeneration, what do you see? Who is with you on your journey? What transforms and gives way to new beginnings? Who and/or what are you accountable to along the way? Join UU Ministry for Earth and The Reverend Yadenee Hailu for a special Earth Sunday worship service exploring these questions in a collective journey on the pathways to healing and regeneration.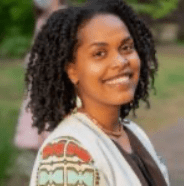 Rev. Yadenee Hailu (she/her) is an Ethiopian American, black woman based in Tulsa, OK. She is a writer, speaker, facilitator and project manager. Her community ministry, BLK Earth, is a love letter to the earth and black people inviting all carbon life to return to rest and right-relationship as it's baseline. She believes life's first mandate is to flourish and its second is to heal. This is the mission BLK Earth supports for persons who desire to curate a lifestyle of healing and to shape their relationships/community towards wholeness.
This program will include a special collection for the UU Ministry for Earth – donations are encouraged and received with deep gratitude.
---