Sermons for October
The Still, Small Voice
Rev. María McCabe
October 3
Meditation is not evasion, it is a serene encounter with reality.
– Thich Nhat Hanh
From the story of the biblical prophet Elijah to the musings of Henry David Thoreau, the still, small voice has been a part of our human spiritual history. In this service we explore how that voice reaches us in times of chaos.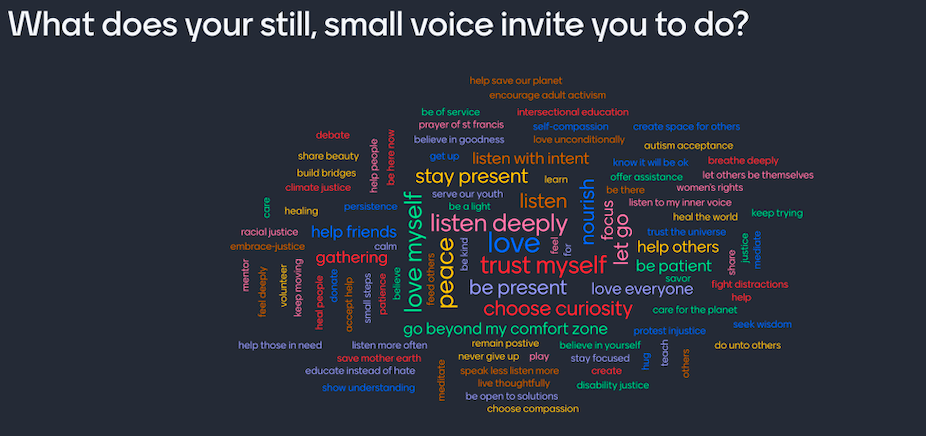 ---
National Coming Out Day
Rev. María McCabe
October 10
Now in its 31st year, this day serves to raise awareness of the LGBTQ+ communities. In this service we honor the experience of coming out and the third annual Upper Chesapeake Bay Pride Festival.
---
Where Does it Hurt?
Rev. María McCabe
October 17
Organizers of the Children's Sabbath, which takes place during the third weekend in October, invite us into deep listening of the voices of children and youth as they answer this difficult question: How can we help? How can we be more present in this moment to our kids?
---
Is Anybody Listening?
Rev. María McCabe
October 24
At a time when so many voices compete for our attention, how might we strengthen our deep listening skills to bring healing presence into our world?
---
Samhain
Worship Committee
October 31
Samhain (Sow-in, or Sahv-in) is the 3rd and final of the pagan harvest festivals; a time when the veil between the worlds is at it's thinnest. The Dark Season of the Earth and Soul is a time for inner reflection and growth. Together, we will meditate on what this season brings, honor our loved ones and ancestors that have gone before us, and celebrate the eternal cycle of life.
---